Coorg Diaries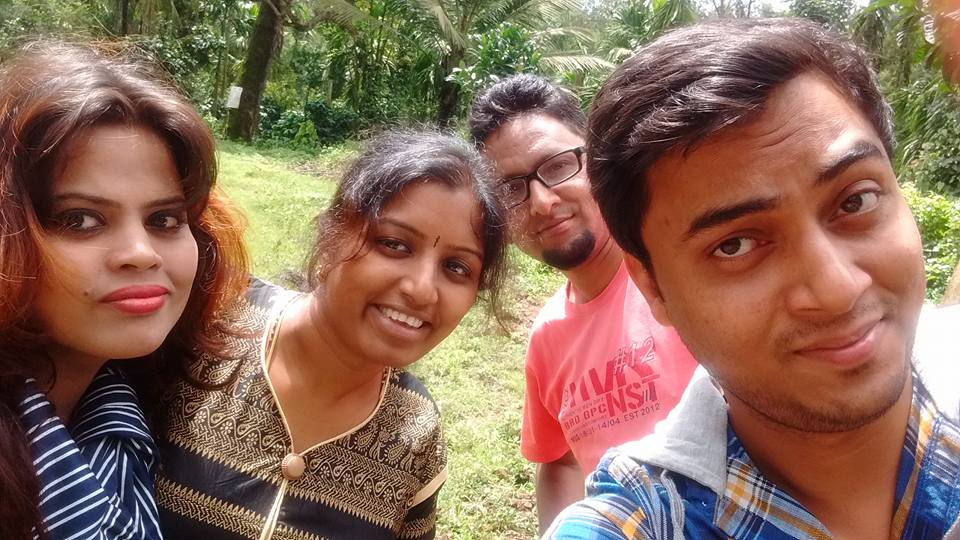 "Who we are? – GMX. What do we do – Eat, Code and Fun".
Yeah, We know it's a cliched line, but this is best we can describe ourselves.
Now let's come directly to the point :), a few weeks back our awesome GMX team had planned a trip to beautiful and serene Coorg Valley. AFAIK, Coorg is best weekend getaways around Bangalore City and you know the best part was that we started on Friday morning (Cool heh).
We were supposed to start at five, but you find at least one sleepy head when you start, so we started at six with a group of two and a butt load of liquor (Shhhh…). The morning roads of Bangalore are so mesmerizing just because there were only a few vehicles on the road. And then we hit the highway. A few hours after the seamless driving we took a stop for breakfast. And then the fun starts, our dear Jasintha sat at the wheel and driving would be an underwhelming word, we were flying, just like how a hawk flies in the sky and doesn't even care about small birds.
After reaching to Coorg, we had to try really hard to find the resort and on top of that we were getting really low network reception. But somehow we managed to reach there. We started to get tired and few of us already started to get light headed. But when we reach to resort all the problems we were facing started to fade out. We have totally spellbound the beauty of the place. It was a pride sitting on top of mountains. We had our awesome lunch and then headed to explore other parts of that area. We came back around the twilight and then realm party started with superb food and astonishing night sky and forest. We danced, we sang. In fact, we did every possible thing which we could do there.
Next, we woke up finished our breakfast and again started to explore the area, along the way we visited two temples and again had an awesome food with the team. We took another stop for the shopping.
Sunday was the last day and we had started earlier to reach to Bangalore. By six we reached to our places. That is how we finished our journey.
We would like to thank Rajan, Jasintha, Vasanth, Manasa, Raja, Vipin, Shiva, Somia, Ganesh from bottom of our heart, who became part of this awesome weekend.
"We we are? – GMX. What do we do -….". (Now you know).
Ciao…