E-commerce Development
Over the last decade, the e-commerce industry in India has flourished, and this trend is here to stay. The number of businesses that have found success in e-commerce is on the rise. If you are a business owner with ideas to launch your brand online, then GyanMatrix can help you succeed in this endeavor.
GyanMatrix – Top Ecommerce Website Development Company in India
GyanMatrix is a leading ecommerce website development company in India with a proven record of creating customer-centric and intuitive websites. We understand your specific needs and use the information shared by you to create highly efficient and affordable e-commerce sites. The real credit for many of the beautiful e-commerce sites built by us goes to our efficient team of web developers and designers. Our experts take exceptional care to create responsive websites that perform well on all browsers and devices.
What are the services offered by GyanMatrix Ecommerce Development Company?
We can help create e-commerce websites that are unique to your brand and the products you wish to sell. Our team includes experts who can build front-end and back-end functionalities of the shopping site to deliver optimum site performance and enhance user interaction. Apart from designing and developing the e-commerce website, GyanMatrix can also provide regular maintenance and upgradation services. An e-commerce website is an intricate platform that contains numerous elements such as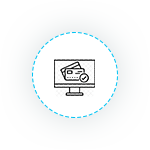 Payment gateway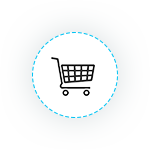 Shopping cart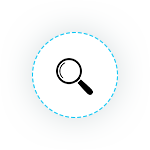 Search option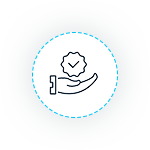 Recommendation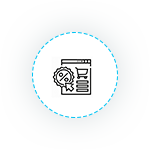 Deals and promotion calculation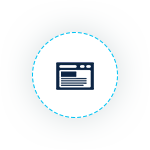 Review posting options
The website needs to be highly interactive so as to attract and retain a visitor's attention. Each of these elements requires the knowledge and expertise of a specialist. At GyanMatrix, we have a large team of web designers, developers, graphic designers, content writers, and more to build the website. So, when you outsource your e-commerce website development to us, you can be assured of high-quality services within your budget and timeline.
Why Choose GyanMatrix?
GyanMatrix is your best choice for ecommerce website development in Bangalore as we have 15 years of experience in building websites for all verticals and sectors. Plus, we use the best Agile methodologies to deliver high-quality services at minimum costs. We design and develop a range of products, including e-commerce websites that can transform the way you do business. We understand your business type and the needs of your target audience to build the perfect e-commerce site. By hiring us for ecommerce website development in Bangalore, you will be able to focus on your core business goals. You will be able to achieve your sales goals faster with your newly built, state-of-the-art e-commerce site. To know more about the services we offer as an e-commerce and custom web application development company, get email us at
[email protected]
FAQs
It is convenient and easy for customers to shop online and in turn it results in growth and outreach of business for the owners. An eCommerce website allows customers to leave feedback and comments which helps business owners connect with their customers and incorporate the feedback into their products and/or services to improve the quality.
Some of the factors you need to consider before choosing the platform for your eCommerce business website are as follows:
Pricing and Payment: Consider the pricing for the platform as well as the payment you receive from your customers. 

Integrations: The integration of tools and plugins with the platform for accounting, marketing, shipping, rewarding customers and more.

SEO Friendliness: The ability to use your own domain name and add blogs and of customers to leave reviews are factors you need to consider making your website SEO friendly  

Mobile Friendliness: Choose a platform that is mobile friendly as more than 60% of searches originate from mobile devices.

Customer Service: The availability of 24/7 customer servicing for the platform is essential to ensure that any difficulties or outages you face regarding the platform are addressed at the earliest to ensure it does not affect your business much. 

Security: Ensure the platform is PCI compliant and supports HTTPS/SSL for safe and secure checkout for your customers.  

Scalability: Choose a platform that you can scale to your business size without having to pay an outrageous fee for the same.
Check out the following major steps that are usually a part of the general eCommerce web development process:
Identify the product/service and the customer

Choose the right eCommerce website development platform

Choose the right eCommerce website hosting platform

Choose the right eCommerce development partner

eCommerce website thorough and complete testing

Marketing to make the customers aware of your website

Adapt to changes that come along and grow your business
Check out the following risks that you must watch out for with eCommerce websites
Online security threats including malware, phishing attacks, hacking, spam mail and more

System reliability issues such as the crash of ISP, errors in online payment system and bugs in the eCommerce plugin. 

Privacy issues: Compromising of customer's personal information and use for spamming, unsolicited marketing and identity thefts

Customer disputes: Customers not receiving their orders, the received product not like the one shown or described on the website, credit card charged twice and more

Credit card fraud: Use of stolen credit card on your website for purchase or a hacker stealing data from other customers in the system

Intellectual property issues: The images, product descriptions, logos, videos, music and products may be copied by some other websites or may have been lifted from Elsewhere.

SEO: Change in algorithm of by search engines which may cause traffic drop to your website. 

Taxation: Liable to miss out on including and paying the fair sales, shipping and/or import taxes 

Return of goods and warranty: May have to deal with product returns that result in the rise of expenses or inability to resell the item at the original price.

Warehousing and Logistics: Out of stock products for which orders have been received, delay in shipment and delivery to incorrect recipient are a few of the issues you may have to deal with. 
Check out some of the important maintenance points to follow for your eCommerce website:
Review domain names

Update content keeping it fresh and current

Review the links in your website to check for broken links

Check and review any forms that you have on your website

Tweak the front page of your website regularly for a fresh look

Review the website design and SEO on a regular basis to stay up to date

Check the website parameters such as website load time, uptime, security and more.

Review and update, if required, the company information on the website

Create backup copy of your website
GyanMatrix can be your perfect eCommerce website development partner with our 15 years of experience in building websites across business verticals and sectors. We use the latest technologies to deliver high-quality services at economical costs. We take the time and effort to understand your business type, needs and target audience to build the right eCommerce website to positively transform the way you conduct your business. So, hire us to build your eCommerce website while you concentrate on the strategies to take your business to the next level. Get in touch with our experts by dropping us a mail on
[email protected]
.