GMX All Hands – May 2018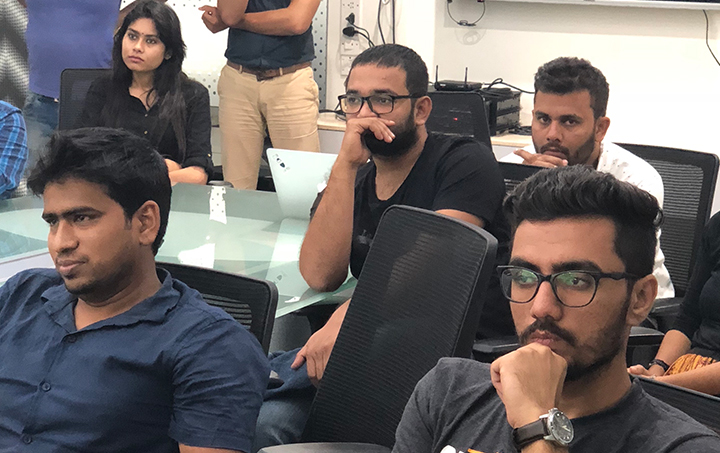 What the sun being up and down is to the rest of the world, All Hands is for those at GyanMatrix. Every month, it comes; it shines, lighting everyone's hearts up as it comes and goes.

We decided to change All Hands up a little bit, tis time. The award categories got redifined and new people got awarded. Heck! Even a new kind of ending – for GMX All Hands – was executed with conviction.
Unlike how it is every month, this month, the All Hands began with a little bit of difference – it started as the day was ending, at around 5 in the evening.
Unlike how it is every month, All Hands of this past month, May, had difference in its veins with regards to the way the Awards were called, and given.
"Team Performer Of The Month", already hallowed as an award to be revered, became of even more importance, as they were upgraded as the definitive awards of the All Hands event.
We had 4 Team Performers this time.
The Winners
Swaathee
Koushik
Srikanth
Krishna Pravimn

were chosen as the best of GMX for the month. One by one, they came up to the fore to collect their certificates from their respective managers.
Below, find them, brimming in every possible way, with joy at the recognition that was given and the cash prize that closely followed the former.
A while after this, and before it, the presentations that teams did, The All Hands of May ended as a show first. But what followed it was a peek into what GMX, the family, is all about. With beers to be drunk found aplenty, and dreamy food to bite into, for hours after the event, the event of people bonding like flowing water, happened. GMX, the tribe, thrived.
But minutes, and hours of friendship, togetherness, and love later, the tribe had to split and leave GyanSpace; it was getting late. With filled hearts,though,that happened; and just like that, the All Hands had happened, too.