MVP App Development Company
Many of the forward-thinking online businesses offer customers 24/7 access to their products and services through their websites and mobile apps. It improves sales and profit and also creates much-needed brand identity. But many companies, and especially startups that launch mobile applications often fail to taste success. The main reasons why an app fails to make an impression include:
Outdated or lesser number of features
Poor loading time
Bugs and errors
Inability to implement customer feedback
Too many advertisements
Failure to use the right monetization method
It takes a dissatisfied customer only a few clicks to uninstall an app from their smartphone. It creates a huge loss for the business that has invested a considerable amount of time, money and effort in creating and launching their app. So is there a way to put forth a bright idea to clients or customers at half the time and cost?
MVP app development and its features
Investing in a minimum viable product is the best decision you can make as it involves short development time and showcases only the best features of your dream app. This way, you minimize the risk involved with developing a full-fledged app and maximize the chance of adding better features based on customer feedback.
The USPs of MVP app development are: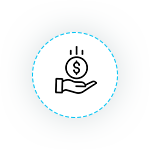 Less initial investment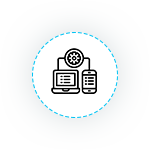 App creation in a short duration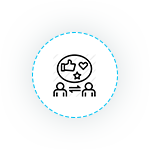 Instant customer feedback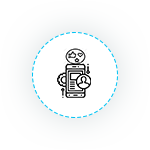 App enhancement based on market performance and reviews
Enhance, build, and measure mobile application performance with GyanMatrix
GyanMatrix offers MVP development services that follow the approach of ideation, research, prototyping, developing, iterating, deploying and scaling. We believe that innovation paves the path to success and follow an Agile methodology for better quality results.
With our MVP development services, you can quickly launch an app with features that will be most beneficial to your customers. This means that an app that may usually take around 6 to 7 months to be built can be created within a month. Early adopters of your app can provide you with crucial feedback that is essential for analyzing, modifying or further enhancing the usability of your app.
Why Choose GyanMatrix?
If you have a vision for your App and know your target audience, we can provide you with a well-planned strategy for MVP app development. Our expert team can transform your idea into a customised app and use critical user feedback to enhance the app further. We can help you decide on the features to include, which can significantly cut down on app development time and cost. Our skilled app developers build high-quality apps that are perfect for presenting to clients or customers. Our services especially benefit startups who want to present an idea to a client quickly and cannot effort to take several months to build a full-fledged application. Some of the top benefits of hiring our MVP services are:
A dedicated team working on your MVP app
Takes care of app development from scratch to the finished product
Uses the latest tools and technologies
High-quality output and on-time delivery
Take your business to new heights with our MVP and mobile application development services. Call us at (+91) 9139393333 or write to us at we@gyanmatrix.com.