Onam At GMX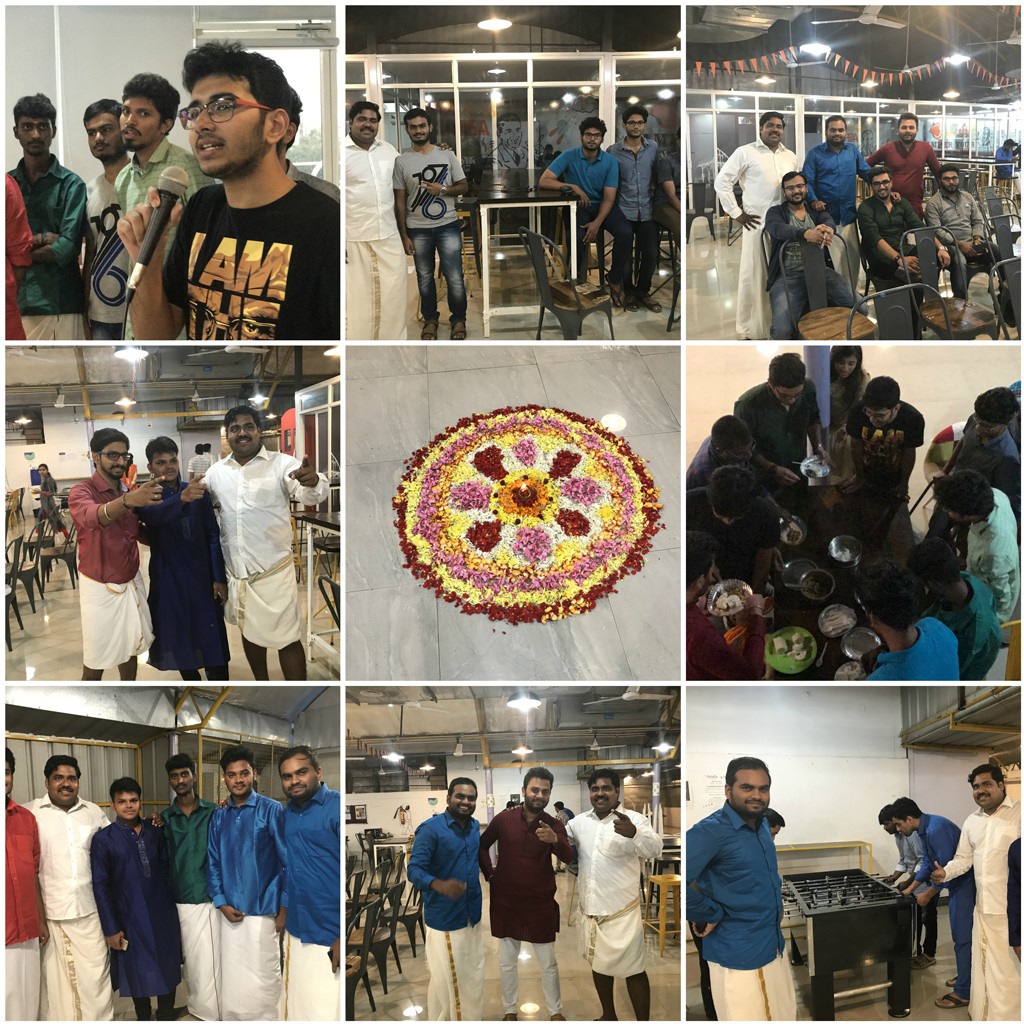 "Onam ashamsakal", began the day on September the 6th. The GMX family was gathered up in a festive huddle and began at once to pay attention to the greeting. The greeting was from a video, and the video was about Onam. The question of "why Onam is celebrated?" was the sun in the video, and the video itself revolved around it.
The family was, for the most part, clad in attires soaked in tradition, and as if the video itself wasn't enough, one from the GMX clan stepped out to give a comprehensive explanation about, well, Onam. It was Manoj (from our Loany team) who'd stepped out to do the deed.
"A welcoming of a returning king!", he began as he shifted from what it is to who it is about. "Mahabali, the grandson of Prahlada, and the great grandson of the demon king that Hiranyakashipu was, was slain by a Vishnu-incarnate (Vamana). He was loved beyond comprehension by the people of Kerala, yet the Gods grew wary of his growing power and clout. The Gods grew very wary.", he added.
"But to this day, Mahabali is loved by the people of Keralanaadu, and since the Gods realized that early on into his demise, they allowed him to waltz back to his kingdom for a fortnight every year. Legend has it that, he's returned every year since his death. Every year, every Onam, he's here!", narrated he.
Manoj went into the intricate details of this lore (there's another that pertains to Parshuram, but that's for another Onam and for another narration of it), but to steer clear from the bane that "tl;dr" is, we'll end it here.
As to the claps of 80 odd hands then ended after his speech's end, interns of GMX and ones from the Beepr team together, one after another yet, made a confluence of dance moves. To the beats of Kerala, the rest of the GMX clan watched on, stunned, for such was the dance!
Tug-of-war then happened. Yes. Tug-of-war happened! In between fixing bugs and writing code, we discovered that when it comes to being physical, we're pretty good at it! With sweat making a mess out of the participants' hairstyles, play on they did and ultimately, one team triumphed. Anshul's team absolutely butchered its competition – an extremely strong competition, mind you.
![](/content/images/2017/09/anshul.jpg" style="width:700px;"))
|The winners
Before and after the tug-of-war tournament, things kept on happening. Things like "find the missing partner", and giving eclectic, random tasks to people from the crowd happened, and boy were they fun!If there ever were people who had to have a session of "break the ice", this was it. This day of Onam was it.
![](/content/images/2017/09/OnamAtGMX.jpg" style="width:700px;"))
|Happy faces. Content hearts.
![](/content/images/2017/09/IMG_1175.JPG" style="width:700px;"))
|Poo-Kolam; also known as rangoli; also known as art!
Of course, no Onam celebration is complete without there being a splendid piece of Rangoli being done. And, as you can see in the images above, ours was one complete day of celebration! At the end of the day, we not only knew why Onam was celebrated, we also ended up knowing why we should celebrate things more, for enviable is our unison when we together celebrate things that deserve to be celebrated!