Our Star Performers – June 2016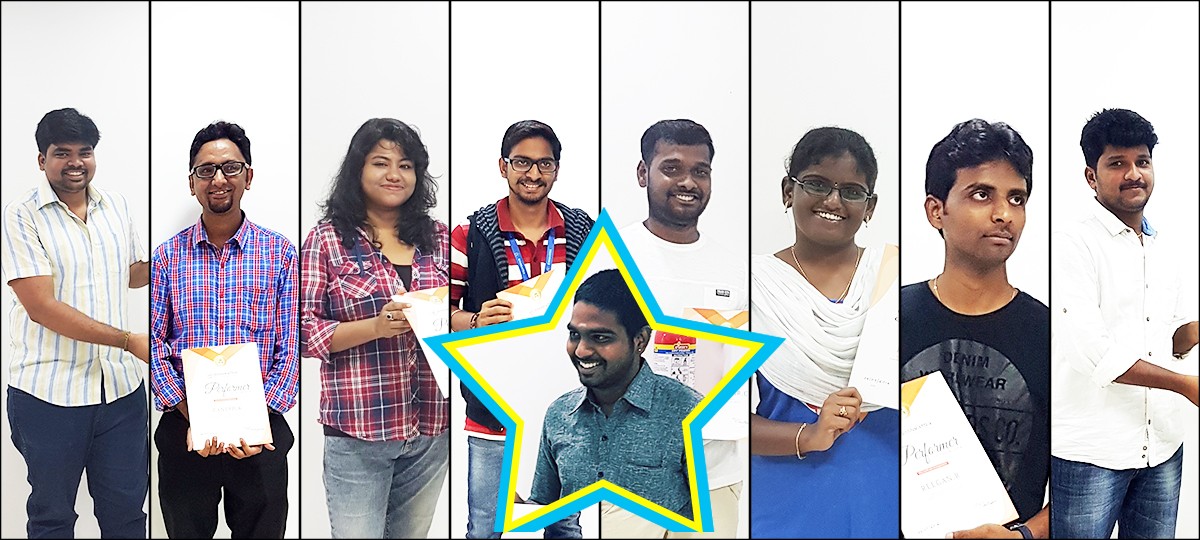 Motivation in work life has never been boring.
"Always treat your employees exactly as you want them to treat your best customers." – Stephen R. Covey
GyanMatrix provides an absolutely wonderful platform to work with fresh and energetic group of talents. All the employees are at their best in leading the Organisation to success. Each individual in work is so passionate towards his work and the outcome have always been fruitful for the Organisation's growth. It is high time that the we recognise the key contributions of every month. Here we present the stars of the month June, 2016.
Employee of the Month
Living in the largest democratic country in the world, our process to pick the best performer of each month is also truly democratic, yes we all Vote and choose the Star of the Month!
Star of the month June 2016 is Arivumathi
"Arivumathi has got the maximum number of votes from our GyanMatrix family members this month and got elected as the Employee of the Month for June 2016. Arivu, as he is fondly called by everyone, was exceptional in handling all the IT support and Asset handling of the IT department. He has been phenomenal, given the fact that he is not from the IT background in his stints at various employment. Some of the standout qualities of Arivu are his calm and quiet composure, his friendly approach to everyone, his patience in hearing our needs and completing them efficiently and on time." – Rajan Parasuraman
Here are some of the direct feedbacks about Arivu from our team:
He is very dedicated person and cooperative. He also works in harmony with others, adds to a positive environment. – Ashok.
Even though he is new to the IT domain, his dedication towards work and his learning prowess is appreciable. – Vidhyacharan.
He done a great job on providing all the necessary devices, tools and requests on time whenever we asked for. – Dhana.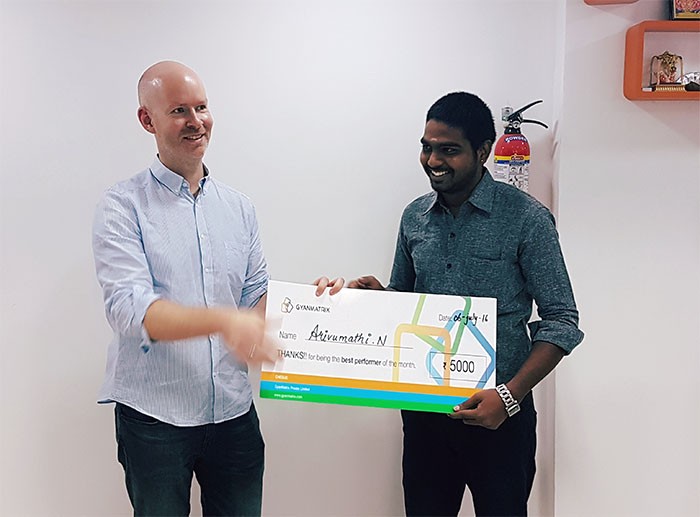 Extra milers
On top of this we also have the habit of recognising the extra milers. Here are some of our other super stars.
Reegan Rajkanth
"For his stupendous contribution towards all graphical that you see at GMX. From the Ads that he is creating, transforming Rajan's vision into those fun filled stunning Ads to his contribution towards strengthening the other UX / UI elements of our products are remarkable. Thanks to Reegan we got eyeball and appreciation from the Google designer." – Rajan Parasuraman
Muthukumar Chidhambaram
"Muthu it is delectable to optically discern how your eyes light up when you are working on incipient things. Thank you for the exuberance you integrate to the team. You are a great contributor. We hope you will be inspiring us with your works for years to come." – Reegan R
Karthick Selvam
"He is innovative, flexible, proactive, multitasking and action oriented. He extends his work time for the project demand. He identifies the missing spots and also contributes in filling the gaps with his innovative ideas. On top of this, his mentoring skills were impeccable. He volunteered to guide the Social media campaigning team and it bought great value to the Organisation. Another highlight that needs a mention is that he with Kamal initiated a cost saving idea to the Organisation in identifying our own HRMS tool. This didn't stop in just throwing the idea but also converting the idea in to a working product. Easily a all rounder of our Organisation." – Vasanth G
![](/content/images/2016/07/Screen-Shot-2016-07-08-at-11-22-59-AM.png" style="width:700px;")
Bharathidasan Muniyandi
"Bharathi is great motivator. He conducted a session on Mobile automation straight after his joining date and also started showing results in automating Loany Application. His contribution to organisation is tremendous and I wish him continued success."- Shaveta Mehta.
Janani Ravi
"Janani is an impeccable example for the proverb "Be like a duck". Calm on the surface, but always paddling like the dickens underneath. We/I'm Proud to have her as part of my/our team/organisation. This showcases she is an upcoming role model and bellwether in our Organisation." – Reegan R
Rituparna Das
"Even though being in the team for a very short period of time, she had built a good relationship with the Dev team, and performed her responsibilities to her maximum capacity. She played a very crucial role in mentoring the new QA members of the team, and brought them up to full speed. The new talents have learnt so much with her guidance and became ready to step in her shoes before she transitions out of the team. She has given the team confidence that team will function even better with fresh talents. This is not a piece of cake for everyone." – Vignesh PT
Suresh Chandrababu
"Suresh has been a fantastic talent for Loany. His expertise in both IOS and Android native application development is a great asset for the team. He played a very crucial role in shaping up the user experience of Loany. He yearns to learn more and experiment. He has recently evolved himself into full stack development, providing crucial bandwith to the team in backend development." – Hariharan P
Ganesh Kakkamallan
"His continuous contribution towards meeting the requirement is awesome. He takes total ownership on his tasks. He never shy away to take the additional responsibility too. He always talks about the positions that he is handling and the thirst in closing the positions at the earliest. His attitude towards helping the colleague in sourcing resumes exhibits his a good team player attitude. His contribution towards scheduling the interview call for Infra team along with Adarsh and his stretched work hours with great enthusiasm, exclusively for this project makes me feel so happy and proud to have him as our team member" – Jasintha R
Employee of the Quarter Q2 – Team Financial Times
"Financial Times conducts quarterly star performer award for the FT team who are in GMX office. It is an honour awarded by FT directly to this team. The winner of last quarter (Q1) was Hamid for his excellent performance NGDA project.
The star performer of this quarter (Q2) is Allwin Ponraj for his excellent performance in Abstraction project. This project is going to be critical for FT's strategic data platform near future. It involves migrating some of the legacy data platform to new data platform which are more structured and reusable data tables. Allwin contribution to this project is tremendous and unanimously agreed by FT . Congratulations Allwin! We look forward to your continued support to our team." – Vinoth Vanaraj 
"There's a lot of great movies that have won the Academy Award, and a lot of great movies that haven't. You just do the best you can." – Clint Eastwood
It is always been a hard time for the jury to decide the winners. Choosing the best of the best is never an easy job. The most satisfying part of these awards was it was genuinely appreciated throughout by our colleagues.
Follow us to get updates about our job openings, our culture and the fun in everything we do.
@facebook – http://www.facebook.com/gyanmatrix
@twitter – http://twitter.com/GyanMatrix