WordPress Meetup Experience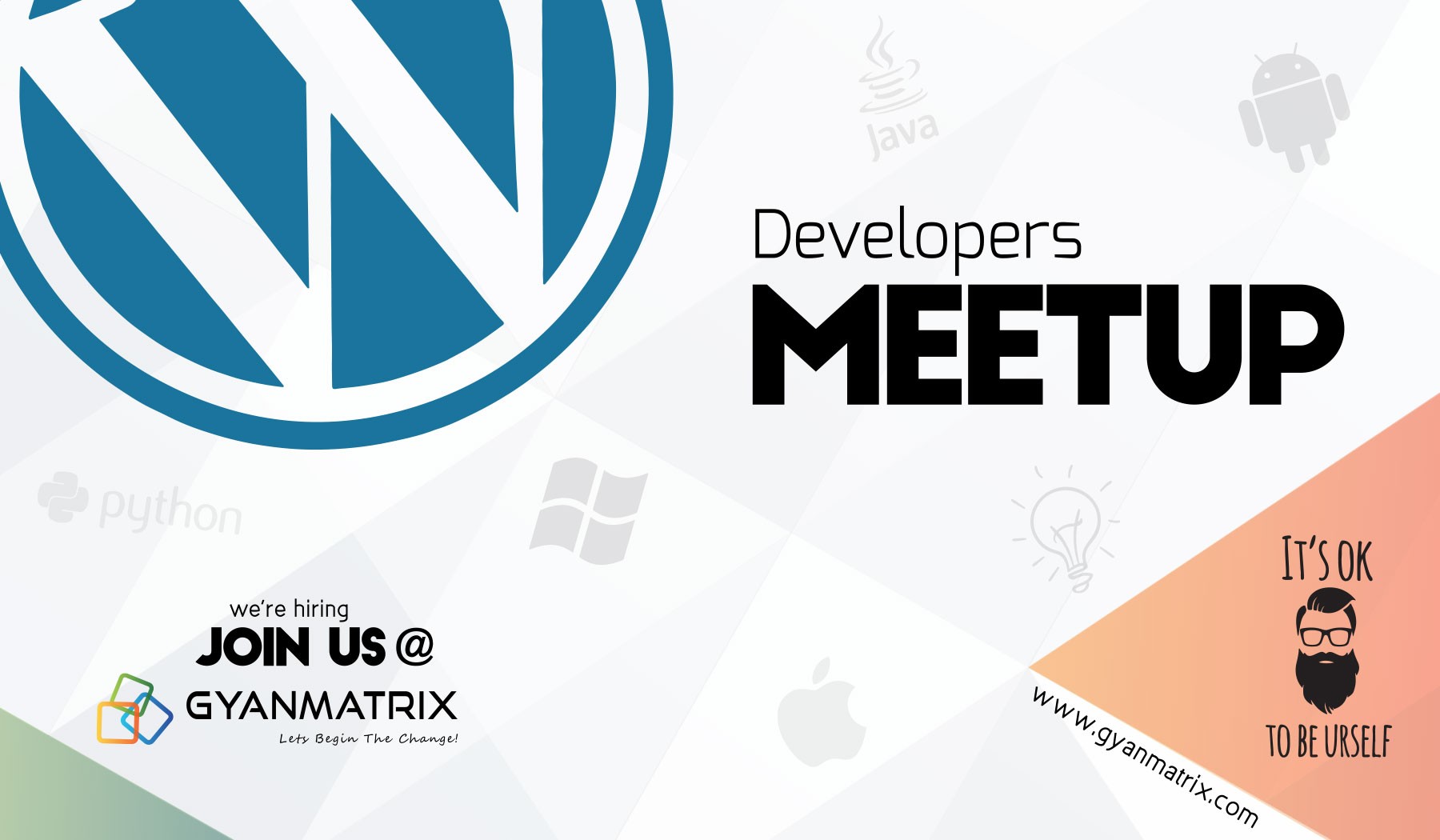 In this edition, I am going to walk through the meetup, that we had recently experienced with WordPress community in Bangalore.
What is a need for such meetups?
We were part of Sun website which is completely a WordPress backend website. We kick started our project and we were in the busy schedule. We were facing a lot of challenges understanding the project, new environment, new management, new team and cross-team collaboration. We were expecting some events organised for us where someone can share and help in working with WordPress.
It all started with my GyanMatrix and NewsUK family.
On a busy day we got an email in our inbox from our management(Adam and Balaji) mentioning, "hey dude, you have a meetup in your city, go and grab more knowledge about WordPress". Unlike most of the corporates where the work life is; come, work and go, we are truly blessed to be in an organisation which cares for skill set and career growth. One more thing which impressed me a lot was Adam, the one who originally initiated this meeting. He stays in London and was investigating meetups in Bangalore. We are really fortunate.
However, we were unable to participate in July Edition of WordPress meetup, due to registration been closed when we were alerted to the event.
The day has come
We then patiently waited for the next edition of the meetup. We registered well in advance for the event and came to know that the team is looking for a venue, speaker and the topic for the August edition. We are also interested in supporting the community to organise the event rather than just attending it.
We proposed an idea to the internal Technical Committee, which is a bunch of technology geeks and senior management to host and sponsor the August edition of the WordPress meetup. As we trusted we got an instant approval from our Senior Management team to proceed. Special mention to Sundarajan Parasuraman and admin team who were very supportive throughout the event process.
We initially held talks with Adrian McShane (Our Colleague from the UK who is currently staying for a short time in India with us) to be the speaker for the event. We were requesting him to prepare a common topic among WordPress developers.
Secondly, we would want to get confirmation from the WordPress event Organisers. Since Facebook is the main source of information for us, we tried reaching the organiser (Sandeep from Dream motion) through facebook message. Later we got his phone number and reached him directly. He was delighted with our interest and agreed on the hosting. Initially, we were expecting around 20 odd members but then later the count increased to 35. We are so glad we have had a great admin team who arranged a meeting set up for us. Special Thanks to Manasa Gopinath, head of our admin team and Raja who helped us in logistics.
Our sincere thanks to Reegan for designing the banner in a short time, he always rocks with his design talents, you can find the banner in the cover photo of this blog.
Topics Discussed
Introduction to WooCommerce, WooCommerce is the most popular e-commerce plugin for WordPress.
WooCommerce with its wide range of extensions can help you build various kinds of e-commerce websites, so come join us and discover the possibilities of what you can do.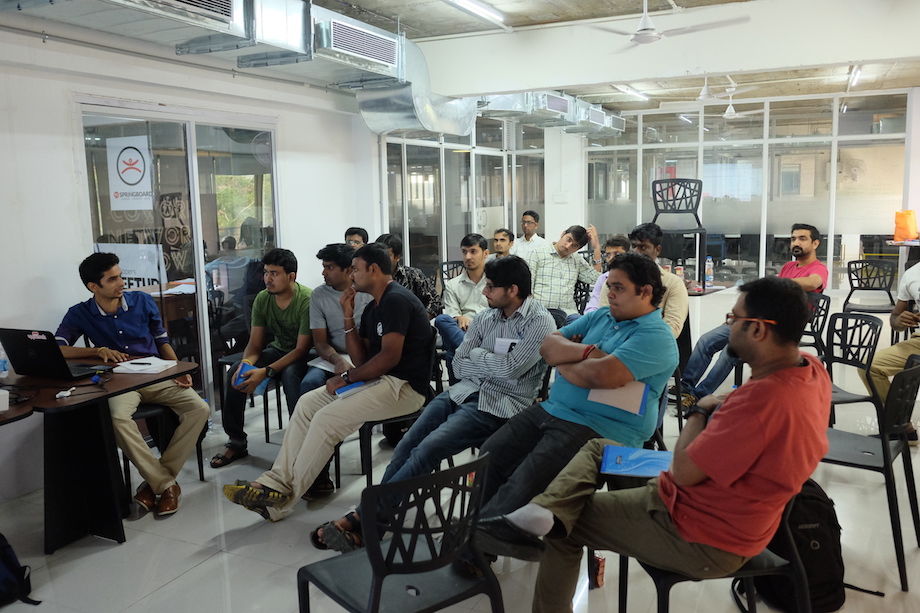 We talked about WooCommerce from two different perspectives:
• A business owner looking to launch an e-commerce website
• A developer looking to use WooCommerce API's.
Speakers
Praveen Selvasekaran is an employee of Automattic, who works for the WooCommerce team remotely from Bangalore. You can't have a better person than him to give us insights into WooCommerce, the possibilities and where the future lies.Praveen describes himself as "WordPress enthusiast, collector of obscure books, occasional mischief maker/ prankster, and a Rajinikanth fan."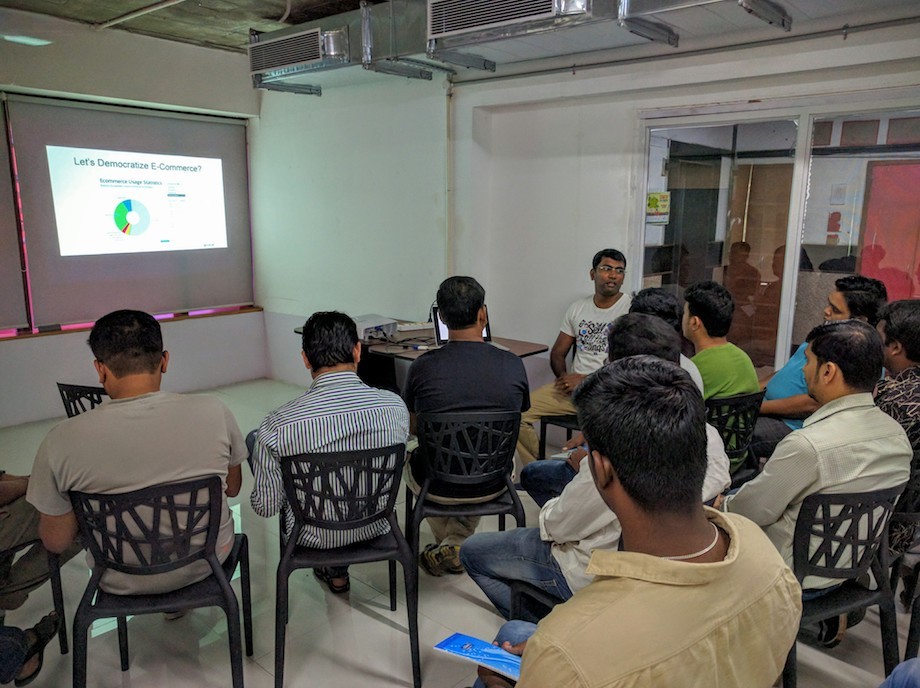 Shreesha Raj is the CTO & Co-Founder of Bangalore-based Espertosys Labs Pvt Ltd. He is a full stack developer and worked on integrating mobile apps with WooCommerce API's.
Overall Experience
The experience we had after the meetup helped us to improve our confidence level on working with WordPress. We gained a lot of rich knowledge about the subject. We got a chance to meet many WordPress enthusiasts around India importantly, Praveen(Automattic), Vachan(WordPress events volunteer), Sharavan(WordPress support), Sandeep(Dream motion) and many to add to the list.
We later discussed the plans for the future meetups, mainly on two items. One was the topics that we are planning to cover in the future meetups and we decided to conduct the poll on the list of topics to be discussed. The next thing was how we can engage the audience for the future meetups without losing interest in attending the meetup and we decided to have open discussions on anything which is related to WordPress.
We are planning to attend the WordPress meetup regularly on every 3rd Saturday of the month and we will involve more with the meetup organising committee and its members. We believe we can stabilise our knowledge by sharing it.
We would like to extend our special thanks to the people who trusted and supported us from the beginning to end.