Best E-Commerce Development Company in Bangalore
In today's fast-paced digital era, eCommerce has emerged as one of the most important platforms for businesses. With the ever-increasing number of online shoppers, it is crucial to have a strong online presence and a well-built ecommerce website. A seamless and user-friendly website can significantly boost your business growth and revenue. At GyanMatrix- the best e-Commerce development company in Bangalore, we understand the importance of a top-notch ecommerce website and offer bespoke development solutions tailored to your unique business needs.
E-Commerce Website Development Process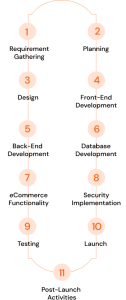 Why do you need an e-Commerce Website?

Increased Reach
eCommerce websites allow your business to reach a global audience beyond geographical boundaries.

Convenience
It provides 24/7 access to products and services, enhancing convenience for online shoppers.

Cost-effective
Setting up and maintaining an eCommerce website is often more cost-effective than a physical store.

Increased Sales
ECommerce websites enable your business to showcase a larger inventory, resulting in increased sales opportunities.

Brand Visibility
In the digital era, having a strong online presence is crucial for businesses to gain visibility and remain competitive in the market.
Key features of successful e-Commerce websites

User-friendly interface
Easy navigation and intuitive design to enhance the user experience

Secure payment gateway
SSL certification and encryption to protect sensitive customer information.

Product search functionality
Including filters, sorting options, and autocomplete to improve search efficiency

Responsive design
Ensuring the website is optimized for mobile devices and caters to a growing mobile user base

Social media integration
Easy sharing and promotion of products on social platforms.

Analytics and reporting
Insightful data to track sales, customer behaviour, and website performance
Best E-commerce Platforms
Shopify
Shopify is a popular and user-friendly e-commerce platform known for its ease of use and quick setup.
It offers a wide range of professionally designed themes and a user-friendly drag-and-drop website builder.
Shopify provides hosting, security, and regular updates, making it a hassle-free option for beginners.
It offers a range of payment gateways, excellent customer support, and a robust app store for extending functionality.
Ideal for small to medium-sized businesses and those who want to get their online store up and running quickly.
Magento
Magento is a highly customizable and scalable e-commerce platform designed for larger businesses with complex requirements.
It offers extensive customization options and is suitable for businesses with unique product catalogs and specific needs.
Magento is open-source, which means you have full control over your website's code and functionality.
It provides robust features for inventory management, SEO, and marketing, making it a versatile choice.
Best suited for larger enterprises and businesses with a dedicated development team or budget.
WooCommerce
WooCommerce is a WordPress plugin that turns your WordPress website into an E-commerce store.
It's a great choice if you're already familiar with WordPress and want to add e-commerce functionality to your existing site.
WooCommerce is highly customizable and offers a wide range of extensions and themes.
It's known for its flexibility, making it suitable for businesses of various sizes.
Ideal for small to medium-sized businesses that want the power of WordPress and e-commerce integration.
Why Choose GyanMatrix for your e-Commerce Website?

World-Class Staff Augmentation
We have a team of skilled and experienced professionals who can help you with staff augmentation to enhance your productivity.

Increase Productivity, Quality & Efficiency
With our services, you can experience a significant increase in productivity, improved quality, and enhanced efficiency.

Seamless Integration
We offer seamless integration of various features and platforms that optimize your eCommerce website's functionality.

Expertise in various technologies
We have expertise in traditional technologies like Java, .NET, and Python, as well as upcoming technologies like NodeJS and React.

Tailored solutions
We provide personalized solutions tailored to meet the specific needs of your eCommerce website.
We Provide End-to-End E-commerce Development Services in Bangalore

Responsive e-Commerce Development: We create responsive eCommerce websites that adapt seamlessly to different devices and screen sizes, providing a consistent user experience across all platforms.

Shopping Cart Development: Our team develops robust and scalable shopping cart systems, ensuring smooth product browsing, cart management, and secure checkout functionality.

Custom eCommerce Website Design: We design unique and visually appealing eCommerce websites that align with your brand identity, incorporating user-friendly interfaces and intuitive navigation.

Payment Gateway Integration: We integrate secure payment gateways that allow seamless transactions, enabling customers to make purchases easily and securely.

Ecommerce API Development: We develop and integrate APIs that enable seamless communication between your eCommerce website and other systems and platforms, facilitating smooth data transfer and improving overall functionality.
Don't miss out on creating an exceptional eCommerce website for your business. Choose GyanMatrix, the top website development company in Bangalore, and benefit from our expertise in responsive development, shopping cart systems, custom design, payment gateway integration, and more. Contact us today to kickstart your eCommerce journey!