GAT 2021 – The Journey, the Event and the Story
In Short
We have done our GyanMatrix Annual Trip 2021 (GAT 2021), in person.
It was 2 nights and 3 days, Annual Awards function.
We followed all Covid 19 standards set by the Indian Government, WHO, and local governing bodies.
90% of the attendees were vaccinated. RT-PCR tests were taken. Covid-19 safety protocols were strictly followed.
Our safety bubble and safety protocols were purely Ayurveda-based.
It was a stupendous success, where all were tracked for 2 weeks after the event, and declared safe.
Now, those who are interested to read a fascinating success story, please be warned about the long story below. Happy reading. Thank you.
The Journey, the Event, and the Story.
It's been more than a year since we have met face to face at GyanMatrix. We have been running our operations very smoothly virtually, thanks to the professionally matured team and the ownership taking culture that we have nurtured since the very beginning. It was amazing to look back and see how lucky we are to have such great teams, with amazing people. Touchwood, during this Work From Anywhere time, we have never got any sort of complaints from any section of our business, including our clients, about their teams. Such is the state, in which all teams are effectively running their operations.
I started sensing that off late, there is a feel seeping in, where our togetherness magic has started to slowly fade out, which might result in the long run, that may give our people the thinking "What is the difference, GyanMatrix is one another Software Company".
So when everything was running smoothly, I suddenly started feeling uneasiness regarding not meeting our people, for such a long time, face to face.
This strong feeling of missing people led to the thought of, why don't we do GyanMatrix Annual Trip 2021, and take all our folks somewhere nice for 2 nights and celebrate it with the Annual Awards for the best performers of the year, as it was due exactly this quarter. Having a gathering of such a large crowd? During this Pandemic period! Who am I kidding here!!. I told myself that this is the craziest idea, during these testing times. But, was it?
I know, if at all we are going to do this, I have to convince so many people. I need to win their confidence. For that, I need to have a proper plan in place. And while I was thinking about it strongly, a big jolt to my idea happened through a personal tragedy. I lost my very close childhood friend and my bestie within a span of just 2 weeks. They both were very close to me, especially Saravanan. We grew up together and attended school together, stayed in touch on a daily basis even after he moved to Singapore, we used to meet often in a year, and he eventually became one of the clients of GyanMatrix as well. He succumbed to the Chinese virus after suffering for 15 days at a hospital in Chennai. I was totally shattered mentally and lost all my energy physically as well.
For almost a month, I was mentally paralyzed without being able to focus on anything properly. But, some kind of anger was building inside me. The anger of an inability to save my friend, the anger of doing nothing but witnessing his demise day by day for 15 days till he was sent to the cremation ground directly from the hospital as if he was an orphan. I felt that we are missing something here, it cannot be this way, there should have been a way that could have saved my friend. The anger was turning into a strong intuition and started driving me towards our indigenous medical system. All of a sudden my desire to find something that could avoid another tragedy like this, started driving me towards our indigenous medical systems such as Ayurveda and Siddha.
And the strong desire turned into a passion and got me connected with some gem of people in the Ayurveda world. Out of several gems, there came a crown jewel in the name of Dr. Prathish
The acquaintance turned into a good friendship in a short span of time. Every minute spent with Dr. Prathish turned into the best minute spent for me. He gave me a treasure trove of information. The more and more I conversed with him, I was utterly convinced that we have the solution in our hands without an iota of doubt. If I had met Dr. Prathish a month earlier, I am damn sure, I would not have lost my best friend.
Conversations with him brought confidence back in me. I know now, I can take control of the situation, if an unfortunate situation arises with any of my near and dear ones. I know, I won't be hopelessly looking at the situation, not knowing what to do. The more I started digging into the data available from the Ayurveda world regarding their success stories in not only curing the mild cases of the Wuhan Chinese virus, but severe to chronic cases has been cured and saved, I started coming out of my unsecured state, and started feeling highly confident.
Armed with this new knowledge and confidence, my mind started working again, and once again started focussing on the priority items. And top priority in that list was meeting my folks in person at GyanMatrix.  This idea was looming large at the back of my mind, and I started thinking about it so strongly. As it says in our system, when we strongly feel about something,  our energy connects with the cosmic energy and the manifestation happens. My thoughts started manifesting into reality.
I started my groundwork and know I need to cross the following hurdles to make it happen:
– Identifying the right place.
– Implementing the best safety process.
– Taking all stakeholders into confidence.
– Convincing several layers of people, just not only the GyanMatrix folks but their family members as well.
First, finding the right place for the gathering happened like magic. Still, I don't know how it happened, as it happened out of nowhere. The moment I chanced upon the place, I knew this is it. Second, I know with Dr. Prathish on my side, we can create the best safety bubble built with a prevention mechanism. Next comes the big step – Convincing People. I first proposed this idea of doing the Annual Trip and celebrating the Annual Awards to my Sr. Leadership Team, with lots of hesitancy and expecting a big backlash, but to my surprise, there was a huge support and in fact, everyone felt, yes we must do it. But the question in everyone's mind and mouth were, How and Where are we going to do it?"
I then showed them the place, which everyone unanimously liked. I then proposed the Ayurveda-based Safety bubble we will be creating (more about this later), discussed the pros and cons of it in length, took everyone from my team into confidence, and felt more confident myself. The big relief is that, from this moment onward, I know I have my team with me to travel forward on this plan, winning their confidence and support means the world. One common concern we all had was, how many of our folks will agree to come to this event in person, how many will feel confident with the system we are creating for everyone's safety? The hope was very conservative, to be honest. But we decided to move forward with our plan, and we decided to travel at the end of July and conduct the event on 29th and 30th, which was exactly just 4 weeks away.
From here it was taken over by Jasintha. Literally, it was her show all the way to success. She gathered her team, established communication with the resort. Sent out the communication to all the people of GyanMatrix and rolled out an enrollment form to get to know how many of our folks are interested to come to the event, took Balu's inputs regarding the travel plans and started working on the transportation logistics, worked with Vinoth regarding the budget, made me put it in writing the clear instructions that I got from Dr. Pratish regarding the safety bubble protocols, initiated the logo and backdrop creations with Reegan for the event, worked out the trophies, welcome kit, goodies for everyone, planning everything to the micro-level details.
When we rolled out the enrollment form to our folks, we attached the safety protocols they need to follow. The safety protocols were very elaborate. We complied with everything that has been set as the Covid safety protocol by the Indian government, WHO, and the local state governing bodies, in our safety protocols and clubbed it with the Ayurveda system and made it as a hybrid model, predominantly dominated by Ayurveda. We made our folks read and agree to the instructions before they sign up for the event. We got 40 YES on the enrollment form. We were thrilled to see the majority of the folks in the organization said Yes and were willing to come. But as and when the days progressed, the enrollment has reached 50, as people who said NO initially, said YES later during the course of the weeks, seeing our preparations and precautions and follow-up.
I need to mention something important here, a few weeks before all these have started, I made Dr. Prathish give a Guest Lecture on the topic – Ayurveda on Covid prevention and cure. And that has definitely impressed people and made them feel confident. So, when they knew that we have onboarded Dr. Prathish for this event and we are implementing the Safety, Precaution and Prevention measures guided by him, they would have felt more secure to sign up for the event.
The Place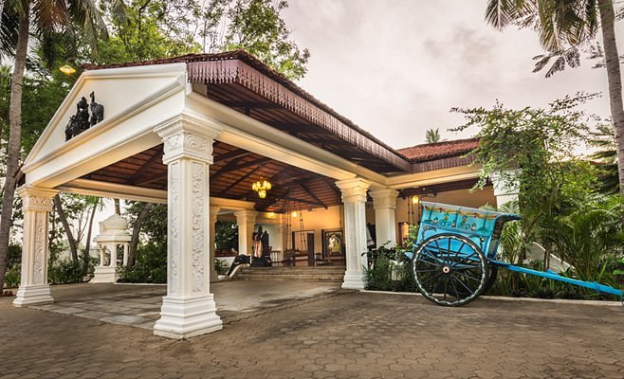 As I mentioned earlier, I do not know how I chanced upon this place. One of the main reasons why I am still surprised about this resort is its location. It is in Kumbakonam, Tamilnadu. Yes, Kumbakonam. It is not a corporate touristy place, it is more of a pilgrimage town given its proximity to several dozens of revered temples nearby. And the weather will always be hot and humid. And no way, it will be a fine resort to host corporate events. But against all these odds, somehow Kumbakonam came into my radar and made us end up in one of the most beautiful locations – The Mantra Kootam resort, a CGH property.
Mantra Kootam is situated in the pristine best location, surrounded on the South by Veera Cholan River and North by none other than The Cauvery River. The resort is located inside the coconut groove, with a banana plantation, mango grove, jack fruit grove, and many more flowering plants and trees. When I explored it more, their Covid Safety measures were more than impressive. They were even awarded for their best Safety Protocols.
As usual, we did a pre-annual event trip. Myself, Balu, Adarsh, and Vasanth visited the property for a day's visit. The place had a divine feel to it, on the lap of Mother Nature, abundant with fresh oxygen, plenty of open space, beautiful long-tailed peacocks, and hundreds of parakeets.  We met and talked to their management, staff, and their Chef about our special requirements based on the Ayurvedic system. They listened to us patiently and were assured of everything we asked for. We made them understand that we mean what we say when we said "Safety is our utmost priority".
Desperate times need desperate measures. So some of the desperate requests from us to the resort management were:
– All the time the water served for drinking, should be hot water, induced with some herbal (Tulsi or Guava leaves or Cumin seeds)
– Lunch and Dinner should be based out of Herbals.
– Kabasura Kudineer / Nilavembu Kudineer should be given hot to all our folks once a day.
– Inside the room, instead of the regular Teabags, special herbal tea bags must be kept.
– All rooms should be fumigated with a special herbal dhoop stick during night hours.
– There should always be herbal fumigation happening at the open area, during our gathering.
– No one outside our safety bubble should be allowed inside the resort during our stay.
We were promised all the above and beyond that from Mantra Kootam management and staff.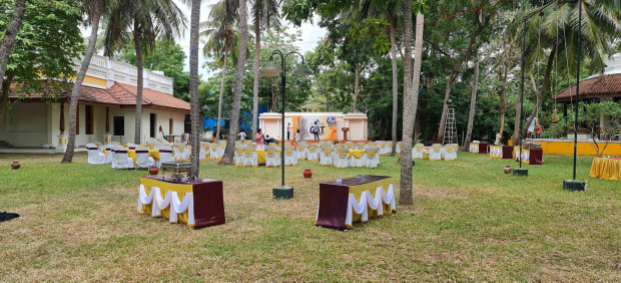 Out of everything, we liked the open-door auditorium at Mantra Kootam, the most. Located amidst the coconut groove, with the beautiful stage platform to host the event. This was very important for us as we wanted to avoid our gathering inside a closed-door place as we do not want to run anything in an air-conditioned environment. Understanding our ideology, Mantra Kootam came forward and offered two other open-door places for two of our other main events. We were offered to conduct our Welcome gathering on the first day evening inside the jackfruit groove and the team interactions the next day morning, inside the mango groove. It was fabulous.
The place has manifested magically, meeting all our requirements.
The Preparation
During this preparation period, to be honest, I got anxious at times. One is when I opened up this idea with my close friends, whom we talk to on a daily basis, there was a mixed reaction. I was supported as well as cautioned. One of my friends who plays the devil's advocate most of the time asked all the usual questions about what if it failed. It made me think, but again looking back at our safety measures and the way in which our team is following up and how the folks are so disciplined, I reassured myself that this will definitely be successful. But, after a couple of days another friend from the group, pointed me to the article that one of the Indian cricket team members playing in Sri Lanka was infected, and pointed me to the fact, "They have an international standard safety bubble". But one thing, which made a big difference on our side is "The Ayurvedic Safety measures". Armed with that confidence, I shed my anxiety and started looking forward happily to the most important day during the last 18 months.
Nevertheless, it was a fascinating journey.
We created, pre-event, during the event, and post-event safety protocols. A special committee was formed for this sole purpose and given the responsibility of maintaining the hygiene of the safety bubble. We brought all the people who will be attending the event into the safety bubble 72 hours prior to the event and kept them under the bubble until 72 hours post the event. I am not going to elaborate on the Ayurveda systems we followed in this article, as it deserves its own dedicated article. But if anyone is interested to know more about it, you are most welcome to connect with us, and we are more than happy to connect you with Dr. Prathish.
What surprised us the most and made us so proud is the discipline and dedication shown by every single one in following the protocols. We always call ourselves 'The Tribe'. True to this analogy, everyone stood for everyone, by supporting each other and making sure the chain is strong even on its weakest link. More than 90% of the attendees were double vaccinated. We took the RT-PCR test 48 hours prior to the event and submitted the report to the resort, as it was mandatory for the resort to have this record as per the new norm.
The Journey
Jasintha and the team took care of everything, meticulously planning, caring for people like caring for our own family members. People came from the East, North, and South of India to the event. Elaborate travel arrangements were done by them. Those who came from East and North came via flight, and everyone from the south came via road. The travel protocols were pinned down to the micro-level details by the organizing committee. Periodical follow-ups were done with them, tracking their whereabouts as there were last-minute reschedules of flights by the airlines. We made sure their safety measures are in place (PPE Kit & Masks),  and everyone is following them without any compromise.
Regarding the road travelers, the majority of the people came from Bangalore. Sizeable came from Chennai, Coimbatore, and Nagercoil and also from Andhra Pradesh. Bangalore people were driven to the destination by the Sr. Leadership team themselves, the Chennai team by Vignesh and Coimbatore were taken care of by Sam and Krishna. The mandate was such that the journey is a point-to-point with one-stop for a food break at a designated open-air spot.
An interesting fact here is that during the last one and half years of the WFA period, we have added close to 24 new talents into our family. And we haven't met each other so far face to face. So, the trip to the destination acted as an icebreaker for many, as they got acquainted and became friends during the 6 hours journey to the resort. It was a Fun-filled and Relationship Built journey for sure for many.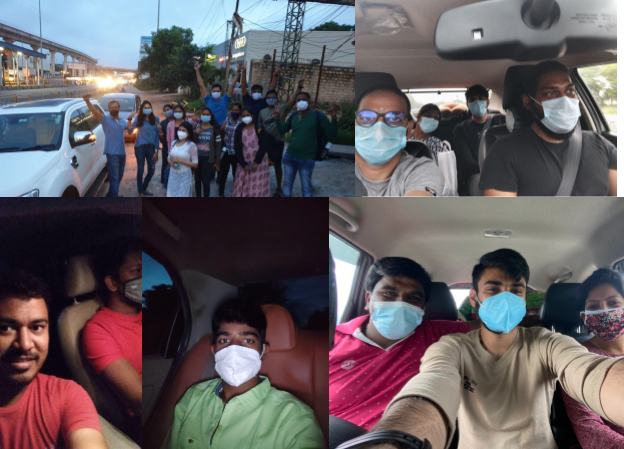 All traveled with their masks on throughout the journey and also with an Ayurveda inhaler prepared at home by everyone as prescribed by our doctor. All reached the resort on time as planned for lunch on day one.
The Event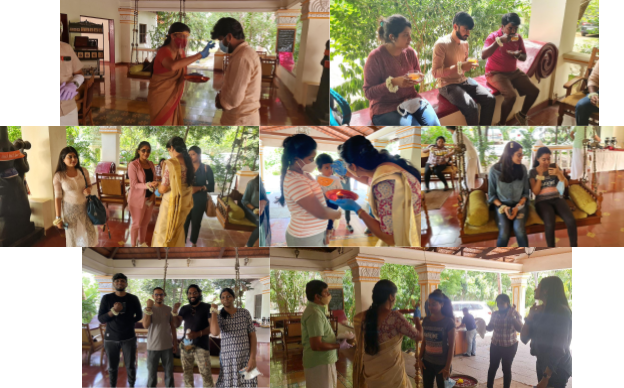 Everyone was welcomed at the resort with an elaborate sanitization process as set by the resort management and given a warm welcome with hot Kabasura Kudineer as welcome drinks along with lemon, ginger, and honey-infused hot tea. Lunch was sumptuous. As promised, drinking water was hot and induced with curry leaves. Everyone settled down nicely and had a good rest after their long journey. Evening gathering was done beautifully well under the huge tamarind tree surrounded by the Jackfruit trees.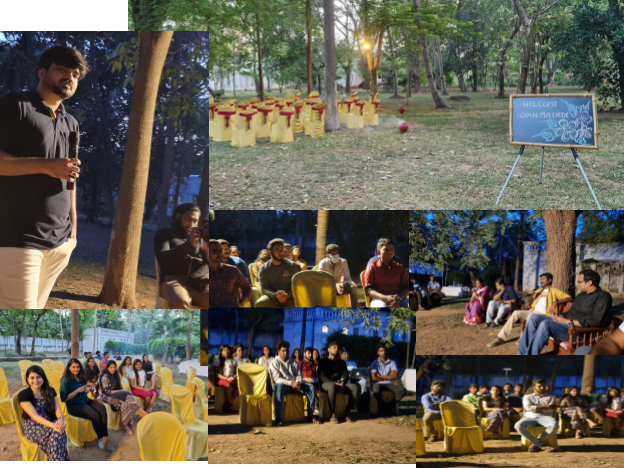 Karthick has done an amazing job of hosting the event and guided me through the interactive welcome session between the leadership team and the rest of the GyanMatrix folks. Since it was the first time for many people to hear about GyanMatrix in person and since it was a long duration for the rest of the people to brush up with our culture, we touched base on who we are and what we are made up of and what we stand for.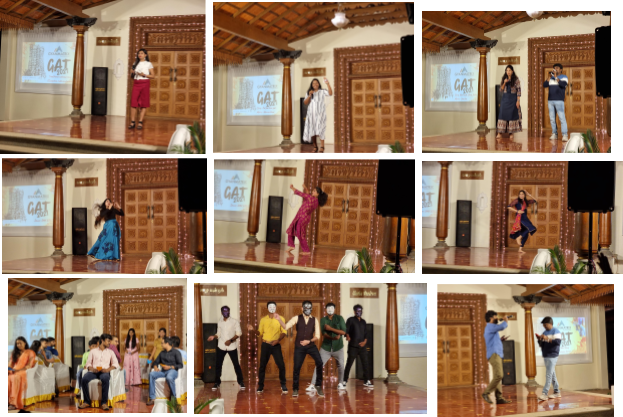 It was a lovely evening well spent under the sky reunited with our old family members and welcoming the new members into our family, followed by an entertaining cultural show with some scintillating performances by Sangeetha & Sangeetha, lovely dances by Neha, Rakshita, and Anu, followed by some lovely singing by Pannaga, Arul and Barathi.  The origami done by Shobana clubbed with a funny group origami was really enjoyable. Virtually practiced group dance, done by Arshad, Kevin, Purushothaman, Sreejit and Pravin was well done. Compered by Akhil and Rajalakshmi in a very elite at the same time entertaining manner, the event was totally enjoyable.
Dinner that night was done aesthetically on the outdoor by the resort management, in their herbal garden area. The chef surprised us with his herbal dinner, which had some authentic cuisine that is local to that region. The salads were fashioned with different herbs that could boost our immunity and keep us away from cold. As promised all our outdoor gatherings were accompanied by plenty of herbal fumigation.
With new friendships made and old friendships rejuvenated, and with the feel of here to a great start, we all bid the good night and slept nicely in our rooms after taking the Ayurvedic specials we got, filled with the aroma of the Aparajitha dhoop, a burning herbal stick sent by our beloved doctor.
The next day morning started with the singing of peacocks on our roofs and the parrots leaving their nest from the coconut trees. We started the day with a wonderful Yoga session at 6.30 AM attended by almost all of us. It was truly rejuvenating 60 minutes for all of us, with the special herbal drinks on the side, followed by the authentic Kumbakonam degree coffee. Breakfast was delicious.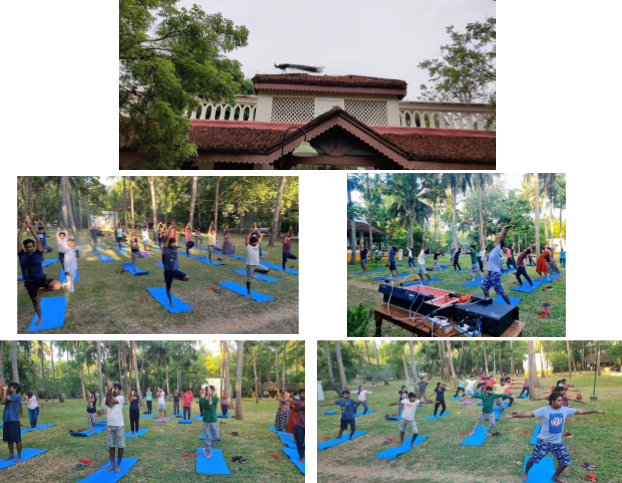 We had our team interactions inside the mango groove. Finally, everyone got to know everyone face to face in their teams. It was rejuvenating and bond-building interaction under the trees. Then Balu took over the show and was at his charming best in building his relationship with all the new folks. It was so wonderful to see the energy flowing around Balu with all the people, bringing them together, participating, and playing games with them, he for sure has won many hearts with his friendly nature, and for sure many will be looking forward to seeing him often in person.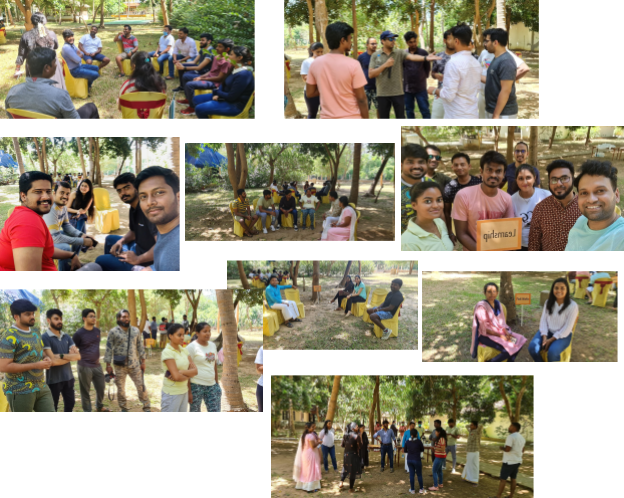 Lunch was so elaborate, with many herbal dishes, once again. Chef has made sure, right from the hot drinking water till the dessert, the immunity-boosting herbal ingredients were the main part of the food. Nevertheless, the food was delicious. The most awaited and coveted awards night started in a beautiful, elite, and elegant outdoor setup, inside the coconut groove. As if to make the parrots envious, all the lovely ladies were dressed in green and the men were in maroon and white ethnic wear for the gala event.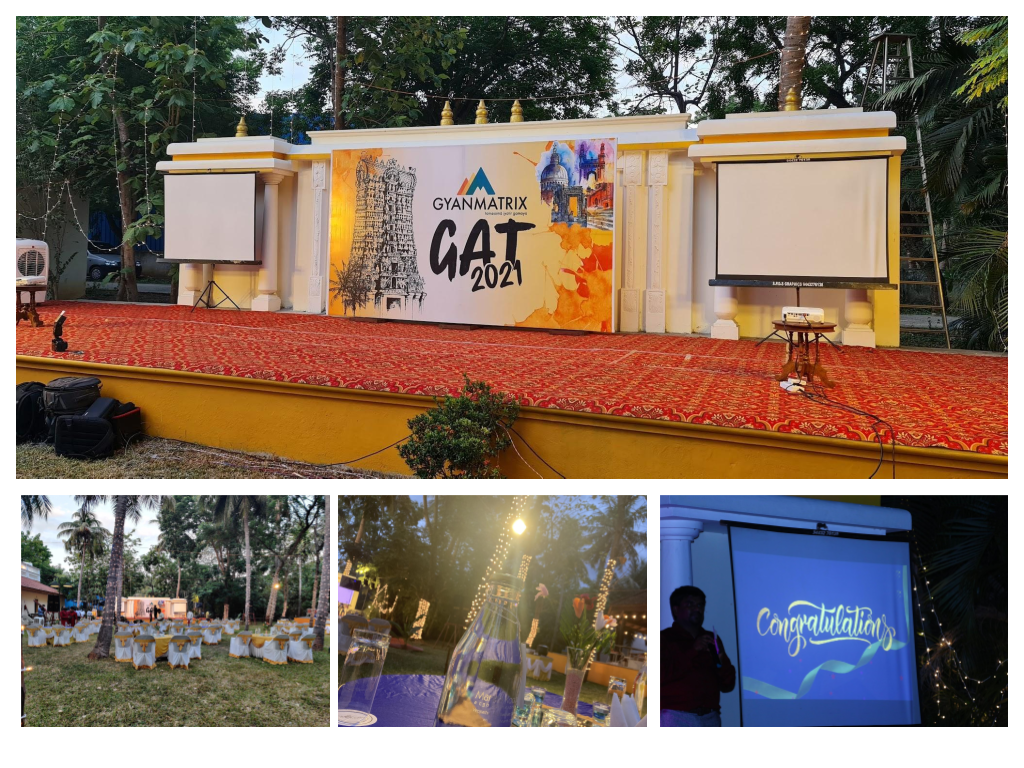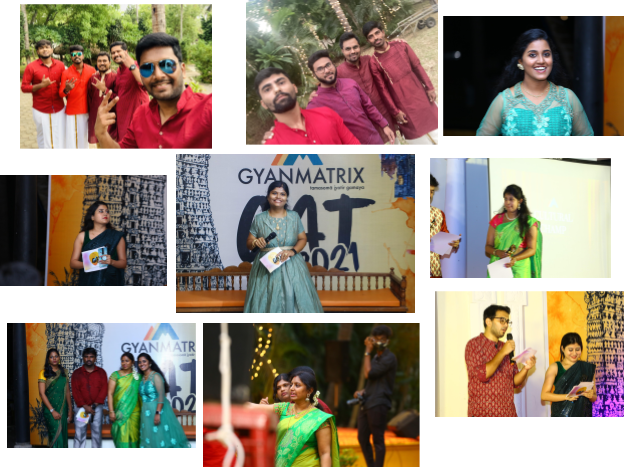 Compered by Akhil, Raji, Neha, and Arul, the awards event added so much flair and respect to the awards and awardees. A year's worth of hard and smart work was duly recognized that evening.
Starting from this year, we have set aside the cash prize of the most prestigious award,  The Best Employee of the year, as 1 Lakh rupees, along with a gorgeous looking trophy. A total of 2 and a half lakhs worth of cash prizes were given away that night, along with some of the most prestigious awards such as the Golden icon of GyanMatrix, Best leadership Award, Best Team award to name a few.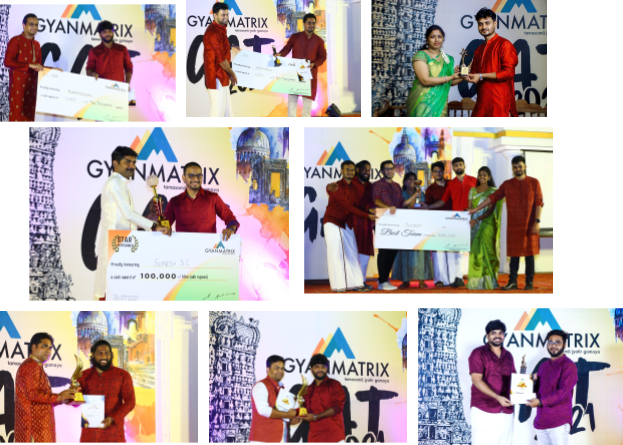 When we were about to finish the awards with 30 minutes remaining, after the most prestigious Employee of the year award was given, the sky opened and poured as if congratulating all the winners and blessing everyone. Everyone ran to take shelter under some roof. Though it briefly rained for probably 15 minutes, it made us not continue outdoors anymore. While we decided to wind up the evening inside the restaurant, in an informal way by thanking each other and giving away the last few thanksgiving awards, once again the magic happened.
Jasintha and her crew were so determined to give it a proper finish, worked out the magic in 30 minutes, in setting up a beautiful environment outside the restaurant corridor, along with the help of an amazing AV technical team from the resort. The event continued to a proper finish in a wonderful way. We thanked everyone involved, we remained ourselves once again what a blessed unit we are to have each other for us, we lived up to our mojo of being a tribe, showing nothing is impossible and discipline is divine. After the gala dinner and happy congratulations to all the award winners, we called it a night with the usual Ayurvedic rituals in our aromatic rooms.
The next day morning, after the delicious breakfast and their share of Kabasura Kudineer, everyone was given a bag of goodies which had some specially gathered items such as Indigenous Honey collected by tribal beekeepers from Gujarat, Amlaprash an immunity-boosting delicacy, made with Vitamin C rich gooseberries,  that has been in practice for ages in our country, made in a traditional way using the Vedic method from Pune and the most famous Tanjore doll that dances defying gravity, to remain us of the wonderful place where we had this memorable time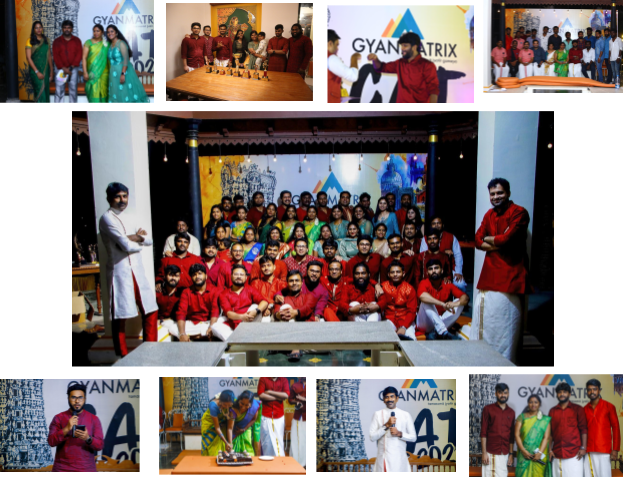 With the packed lunch for the trip, we all left with wonderful memories, a beautiful friendship, and above all with huge trust built among us on each other, our organization, and the wonderful indigenous medical system of our country.  
RT-PCR tests were taken at random during the return journey, and one-week post-event tracking and follow-up of safety protocols with our folks, all showed that we have successfully pulled off the event keeping the Wuhan Virus at Bay. Here we declare after 14 days of the event, it was a GREAT, GRAND SUCCESS with brimming pride and humble attitude.
Pulling this off, with such great precision is close to a miracle given the situation the world is right now. But we have pulled this together, because of our unity, teamwork and trust on each other. Though a great team effort is behind this success story, there is one person who deserves a big applause for her relentless dedication, sincerity and care in making this such a smooth journey for all of us.
Thanks to our beloved "Mummy" Mary Sarojini Jasintha.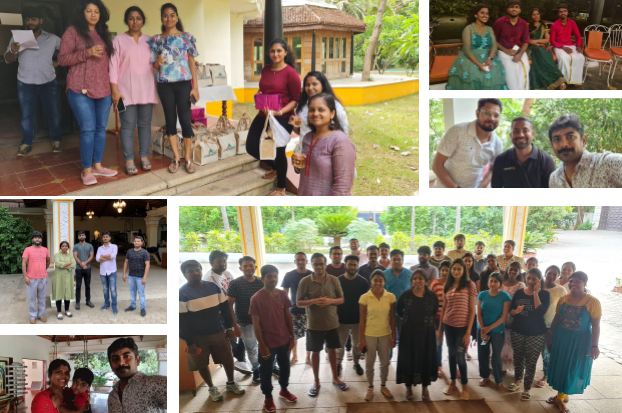 Thank you team GyanMatrix, thank you Dr. Prathish, thank you Mantra Kootam, and thank you Ayurveda.

Until next time… Jai Hind.