Don't Let Your Mobile App Dreams Fizzle Out – Select the Best App Development Company For Your Projects
No wonder the app development industry is thriving!
With an annual growth rate (CAGR) of 8.58% between 2022 and 2027, the estimated market volume will be US$755.50 billion by 2027 (source).
For companies that want an online presence, a well-designed and developed mobile app can streamline operations, improve customer engagement, and create new revenue streams.
Nevertheless, turning your mobile app concept into a thriving reality depends on teaming up with the ideal app development company. With a sea of options out there, selecting the perfect match can feel daunting.
But worry not – we're here to help you make an informed decision!
In this article, we'll guide you through,
So, buckle up and get ready to embark on an exciting journey to bring your dream app to life in the ever-evolving digital landscape!
Various app development company types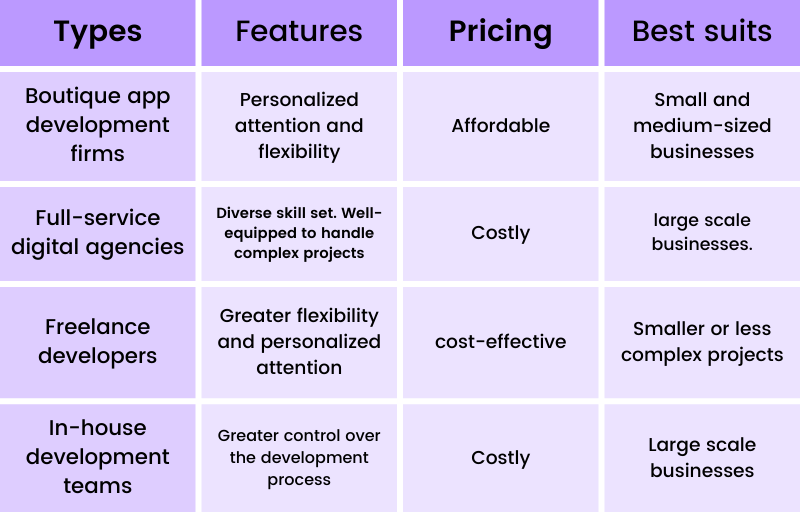 While searching for app development options, you'll come across different kinds of companies, each with unique pros and cons.
To assist you in finding the perfect fit, here's a rundown of four prevalent mobile app development company types.
1. Boutique app development firms
These specialized firms focus exclusively on app development, often providing tailored services to cater to specific industries or niches. In addition, they usually have a smaller, more dedicated team, offering personalized attention and flexibility.
Note: Boutique firms are ideal for small and medium-sized businesses since their pricing is affordable.
2. Full-service digital agencies
These agencies offer a comprehensive suite of digital services, including app development, web design, marketing, and more. As a result, they are well-equipped to handle complex projects with a larger team and a diverse skill set.
Note: Their broad range of services might charge higher fees than other options. Despite this aspect, they may be an excellent fit for large companies.
3. Freelance developers
Hiring freelance developers can be cost-effective, especially for smaller projects or businesses with limited budgets. In addition, they often offer greater flexibility and personalized attention.
Note: Collaborating with freelancers suits smaller or less complex projects where you don't have to track every step they take to build your app.
4. In-house development teams
Building an in-house development team involves hiring and managing your own developers, designers, and project managers. This approach allows for greater control over the development process and ensures alignment with your company's goals and culture.
Note: Building and maintaining an in-house team can be costly and time-consuming and may not be feasible for all businesses.
Grasping each mobile app development company's pros and cons empowers you to determine what aligns with your project needs, budget, and overarching business goals.
So, without further ado, let's delve into the factors to consider when pinpointing your perfect partner.
Aspects to Weigh When Choosing an App Development Company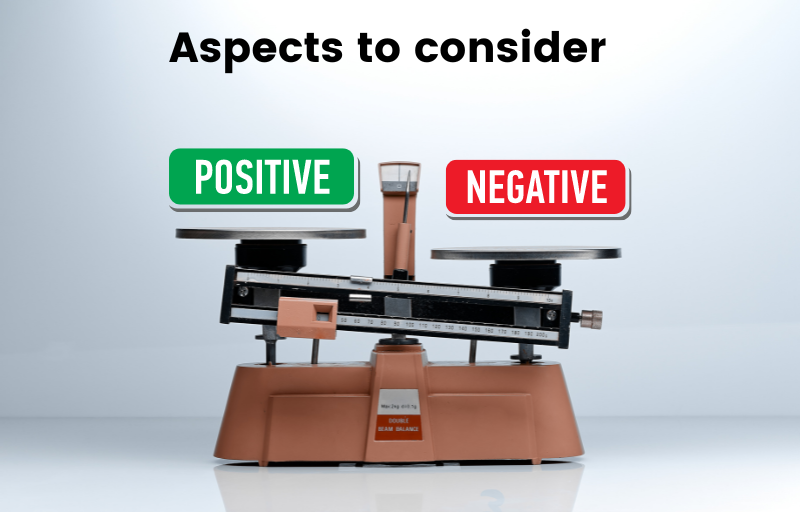 Numerous factors can substantially influence the outcome of your project.
With that in mind, let's examine the significance of each aspect and provide insights on assessing ideal development partners accordingly.
1. Expertise in your industry
Selecting a mobile app development company with experience in your specific industry is vital. This ensures they deeply understand your business requirements, target audience, and competitive market.
Review its client list and ask for references to evaluate a company's expertise.
Additionally, assess the challenges they have tackled in similar projects and the solutions they have provided.
2. Portfolio and case studies
A company's portfolio and case studies are strong indicators of its capabilities and experience.
Examine the quality, complexity, and variety of their previous work and the relevance to your project's needs.
Review their work by paying attention to user experience, design, and functionality.
Ask for detailed case studies, which should outline the development process, challenges faced, and solutions implemented.
3. Communication and Collaboration
Efficient communication and teamwork are vital for a successful app development project.
For example, suppose you're an agency offering XYZ services/products and connecting with another agency specializing in mobile app development. In that case, emails can serve as an excellent communication method. In fact, 62% of brand-to-brand communication happens through email (source).
Moreover,
The development firm should maintain a transparent and open communication approach, enabling the smooth exchange of ideas, feedback, and prompt updates.
Make sure they utilize a project management system to monitor progress and foster collaboration.
Finally, evaluate their responsiveness and eagerness to address your concerns during preliminary conversations.
4. Technology stack and development methodologies
The company's technology stack and development methodologies can significantly impact your app's quality, scalability, and maintainability.
Familiarize yourself with the technologies and methodologies relevant to your project and evaluate the company's proficiency in those areas.
Inquire about their approach to quality assurance, testing, and deployment.
Opt for a company that follows industry-standard practices and stays up-to-date with the latest trends and technologies.
Considering these essential factors and meticulously assessing prospective mobile app development partners will boost your chances of launching a successful, top-notch mobile app that fulfills your business goals and spurs growth.
Now, let's dive into discovering the ideal mobile app development partner.
How to identify your ideal app development partner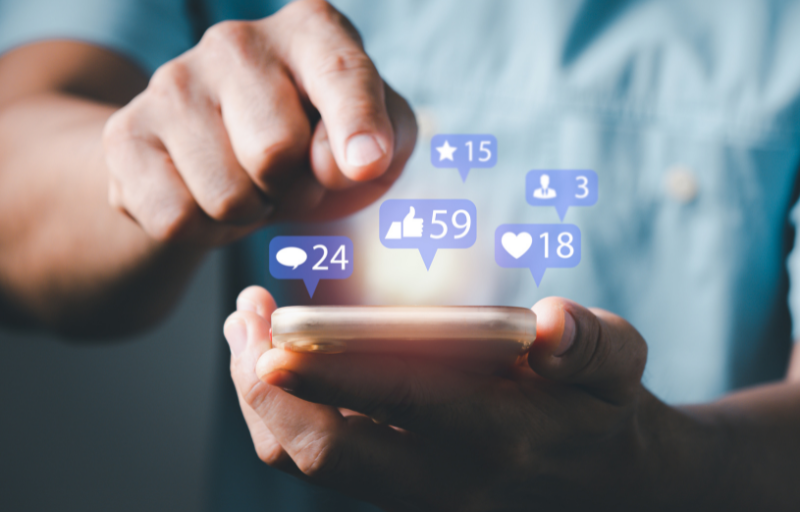 Pinpointing the perfect app development partner for your business demands comprehensive research and assessment.
Let's explore the various strategies and how to implement or utilize them effectively.
1. Online research
Begin your search by researching online using search engines, social media, and industry-specific platforms.
Look for companies with positive reviews, relevant experience, and a strong online presence.
Visit their websites and examine their portfolios to gauge their expertise and capabilities.
2. Industry recommendations
Leverage your professional network to gather recommendations from colleagues, industry peers, and other businesses with positive experiences with mobile app development companies.
These firsthand accounts can provide valuable insights and lead to trustworthy development partners.
3. Request for proposals (RFPs)
Create a detailed RFP outlining your project's requirements, goals, and desired features. Distribute the RFP to potential development companies and evaluate the proposals you receive.
This process allows you to compare different companies based on their proposed solutions, timelines, and pricing.
4. Attending events and conferences
Participating in industry events, conferences, and meetups can help you discover potential mobile app development companies, gain insights into their expertise, and network with professionals in the field.
Engaging with companies in person allows a deeper understanding of their capabilities and values.
Now that you've learned about some practical methods for finding potential partners for app development, you might feel overwhelmed with the prospect of assessing and choosing one among them.
Don't worry, though. Let's take a closer look at how to evaluate and ultimately select the best mobile app development partner for you.
Evaluating and finalizing your app development company choices
Here are four essential steps to follow to finalize the best fit.
Conducting interviews

– Arrange interviews with shortlisted companies to assess their expertise, communication style and understanding of your project requirements.

Reviewing project proposals-

Compare the proposals received from different companies, evaluating their approach to addressing your project's needs, goals, and challenges.

Negotiating pricing and contracts-

Discuss pricing and contractual terms, ensuring they align with your budget and expectations while focusing on quality and value.

Establishing milestones and timelines-

Collaborate with your chosen partner to set clear milestones and timelines, providing a roadmap for the project and facilitating progress tracking.
By diligently following these steps, you can finalize a reliable app development partner, setting the stage for a successful and fruitful collaboration.
Selecting the right mobile app development company is a critical factor for the success of your mobile app project. Hence, invest the necessary time and resources to research, evaluate, and finalize the best development partner to make your mobile app dreams a reality.
Don't wait any longer! Reach out to a team of experts today, and start crafting a digital masterpiece.