The Major Causes Of Mobile App Failure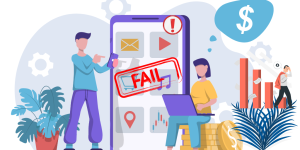 The Apple App Store offers 1.96 million apps for download, whereas the Google Play Store has 2.87 million available downloads (source).
Looking at the above statistics, it's pretty understandable that app usage and smartphone penetration continue to expand steadily, with no signs of stopping soon.
As a result, everyone's eyes are nowadays hooked to a mobile device.
If you want your mobile app to rise above the competition, don't miss out on discovering common pitfalls that can lead it astray. Whether you're an experienced mobile app development company or a newcomer in the world of apps, reading up on these mistakes is crucial for success!
So, here are some pitfalls to avoid when designing a mobile app that could result in an unsuccessful app.
Lack of in-depth research
Successful mobile app
development companies always prefer to launch a strategy based on extensive research on both the market and the target audience.
If you decide to build an app without first researching and defining the target audience, you risk creating a product that you believe people will want but don't.

In the other case, companies fail to recognize real-time market needs without market research. Unless the app has a unique value proposition (UVP), it will nothave a large user base or add value to the brand. In today's market, innovation matters.
Your audience will ultimately decide your app's fate. Yet, when creating something, you must consider the audience that will influence the App's success.
Wrong platform selection
Whether your app runs on the iOS or Android platforms, you may be in trouble if you don't understand your target audience's demographics and preferred mobile devices.
Although Android and iOS have very user-friendly interface principles, they operate in distinct ways and cater to different user groups.
It becomes an issue when apps fail to run well across devices, networks, and operating systems. For example, users are irritated when an app works on their iPhones but not on their iPad.
Hence, when an app developer does not thoroughly research the platform, it leads to unsuccessful apps.
Outdated technical methods
Outdated standards and techniques contribute to technical inefficiencies, leading to app failure.
Instead of creating a perfect balance, novice mobile development companies make too many or too few features for an app. As a result, users abandon many apps after the first use.
Also, if added features do not harmonize with the product vision, this adds up to the reason. Moreover, a robust backend is required for any app to be stable.
Further, outdated apps can not handle traffic spikes, which hurts consumer loyalty to a great extent.
The next reason why mobile apps fail is poor optimization. They cause poor audience interest, and speed optimization frequently fails due to coding flaws, bandwidth constraints, and network protocol gaps.
Improper app testing
If you don't test an app under various real-world scenarios, such as a low battery, incoming calls, rapid changes in network strength, and so on, adverse situations will occur. It can lead to major crashes that cause 71% of app uninstallations. (source)
However, it is no secret that mobile applications necessitate extensive testing. Still, mobile app development companies face disastrous application failure due to a lack of testing time or proper testing software.
Poorly designed UI/UX
One of the most common reasons for app failure is poor user experience. So at the most basic level, your program must be user-friendly.
If a user has difficulty performing simple operations on your program and cannot simply figure out core functionalities, the outcome is poor usability.
Some examples of poor user experience are:
Poor app performance.

Lengthy loading times.

Complicated registration process.

Accessible features that are difficult to find.

Neglecting customer feedback.
Any of these reasons can cause an unimpressive user experience.
Inadequate marketing strategy
We live in a time when you must favorably present your products or services.
A marketing plan is where an app can truly demonstrate its potential; if you are not using one, you have no right to blame the app.
If you don't have a marketing plan that will last from the start of the project until the app gains traction, reaching your business goal is challenging.
The majority of mobile app development companies do not invest in app promotion. As a result, the software gets a tiny user base.
Funding and monetization issues
A limited budget is also one of the major causes of mobile app failure. Enterprises run out of funds well before launching for a variety of reasons. But whatever the reason, gathering sufficient financing to run a profitable app is necessary.
Furthermore, before you plan the launch of your app, you should be clear on the app's monetization approach. It is vital to identify your app's path to profitability early on; otherwise, your app will fail sooner or later.
Communication gaps
An excellent mobile app appears unique and appealing by its design. However, some situations, like communication gaps, can hinder the app development process and outcome.
For example, it irritates developers to have a brilliant idea that cannot be implemented owing to the design team's lack of innovative involvement.
Similarly, if communication issues arise between you and your clients, it can lead to disastrous results.
Mobile app failure can be caused by many issues, ranging from inadequate user experience design to poor performance. Therefore, businesses or individuals must carefully consider these important factors listed above before developing one to achieve corporate success!
If you need even more clarification about this, you can always hire a mobile app development company to assist you in making your vision a reality.